LockeSonjie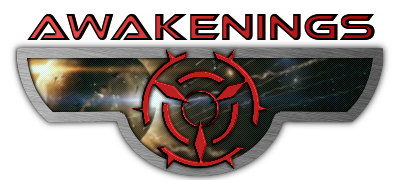 ->TEAM OBJECTIVES<-
==================
Introduction
The shattered world of Dentavii lies before you, a great calamity having shattered its surface into many loose, but stable, asteroids, several hundred miles in diameter. Several of the larger chunks house ruins of old, housing shards of the crystal world, Ombus. These 'Shards' reflect a user's power back onto themselves, increasing their power dramatically.
Marcus desires them, so he can gain enough power to challenge his Consul, Darth Vexatus needs them, so he can perform his arcane ritual. Locke wants these artifacts secured, so they cannot be abused.
Now, with all the pieces on the board, it is time to roll the hard six. Who will triumph, who will fall, this is for you to decide. Good luck in Awakenings!
Rules of the game:
Your team's goal is your first priority.

You do not need to interact with the other teams unless you both want to work together.

The Warhost forces assigned to each team provide you with NPC opponents if you do not want to interact with other members' characters directly.
Please remember that each post must be a 250 word minimum to count and double posting is not allowed.
TEAM KIRIYU
---
Objective (Week 1)
Using the shuttles on the Absolution, proceed to the asteroids of Dentavii with all haste and procure as many of the Shards as possible. To achieve an advantage over Locke, Marcus will need at least two Shards. Intel indicates mostly military forces en-route to the relic-sites, so you should have little to no resistance. Should you encounter any Force users, subdue them and return them to the Absolution for questioning and conversion.
On the bridge of the Absolution, Marcus stands vigil over the efforts of his fellow Sadowans. Marcus has seen the Prophet, Vexatus, collecting old relics known as Shards. If Marcus can collect enough of them, he will be able to usurp Locke and take his place as Consul.
TEAM VEXATUS
---
Objective (Week 1)
Find the Shards and return them to Darth Vexatus' base of operations. The ancient rite will require at least two Shards to begin. Vexatus has foreseen that several teams of military personnel, mixed with Dark Jedi, will be searching for these fragments of the crystal world Ombus that are spread across the Dentavii asteroids as well. Avoid prolonged conflict if possible, your strength will be needed for the final ritual.
Darth Vexatus has foreseen the events unfolding here on Dentavii. He knows that if he is to gain the advantage, he must collect as many fragments as possible so that he can start the ritual before the bulk of the forces from Locke and Marcus can interfere.
TEAM LOCKE
---
Objective (Week 1)
Recover the fragments of the crystal world Ombus that are scattered across the Dentavii asteroids before Marcus or Vexatus can secure them and secure the relic-locations from hostile forces. With at least two Shards secured, Locke will be able to stop both the ritual and Marcus' attempts at power. Initial flyovers from the Turmoil's shuttles indicate the enemy is out in full. This is your chance to decimate their limited resources. Engage any military forces and make their numbers dwindle. If you encounter any traitors, subdue and return them to the Turmoil to face justice.
Aboard the Turmoil, Locke seeks to return the Clan to its former whole before exterior forces realize the Clan is divided. He must secure both the Shards and the relic-sites where they come from, so that both Vexatus's ritual and Marcus' plan can be stopped before it is too late.